1
« on: November 29, 2014, 17:56:07 »
Gdyby ktoś zapytał mnie, czym dla naszego zespołu było PGA, bez zastanowienia odpowiedziałbym: "kamieniem milowym". Nie mówię tutaj o prestiżu, jaki płynie z tego, że posiadaliśmy własne stoisko na jednych z największych targów gier komputerowych w Polsce. Nie chodzi mi nawet o ilość kontaktów, jakie udało się nam zebrać, ani o ilość wywiadów, jakich udzieliliśmy. To wszystko jest ważne i jesteśmy z tego bardzo zadowoleni, bo były to wymierne korzyści z naszej pracy, jednak myślę, że na tych targach nie było to najistotniejsze. Uważam bowiem, że najważniejszą rzeczą, jaką wynieśliśmy z targów, jest doświadczenie i bardzo silne przeświadczenie, że to, co robimy, idzie w dobrym kierunku.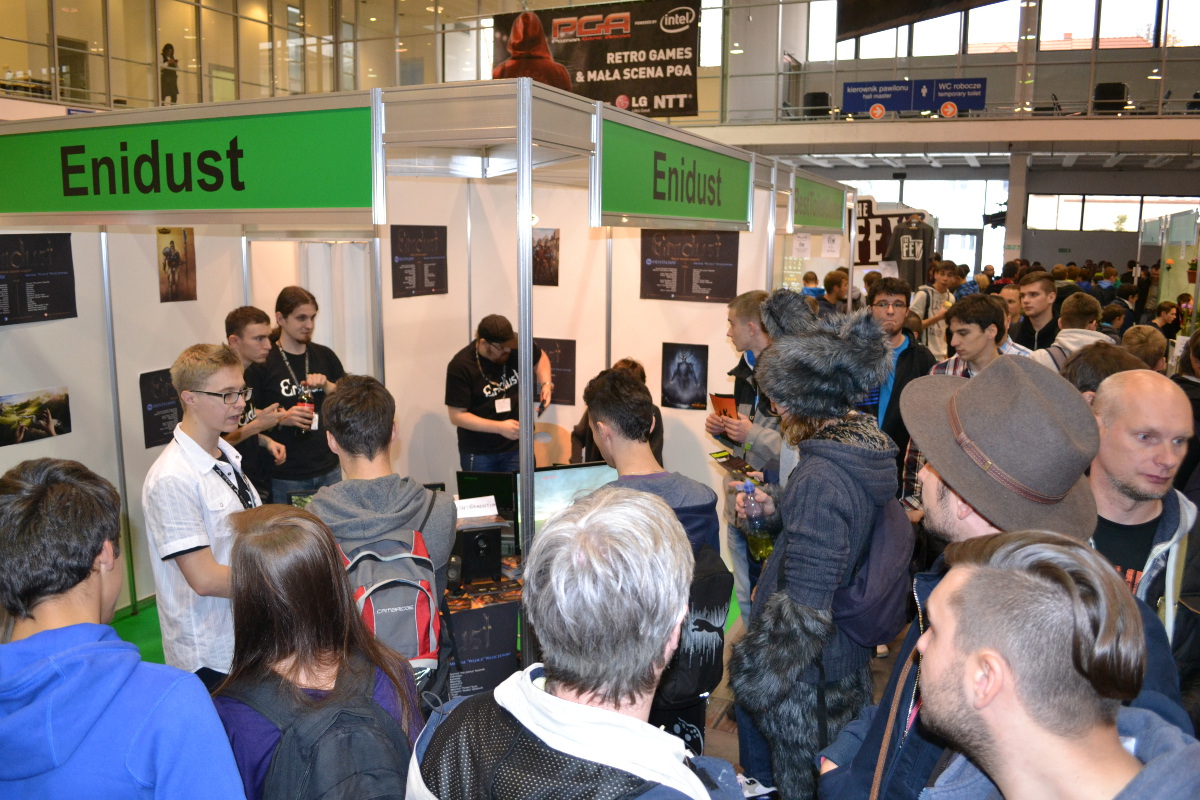 Niesamowita szansa i niepowtarzalna okazja by udowodnić, że Polak rzeczywiście potrafi – oto jak postrzegam wydarzenie, jakim były dla nas tegoroczne targi PGA. Wbrew wszystkim przeciwnościom, zewnętrznym i wewnętrznym, osiągnęliśmy nasz pierwszy cel w drodze do stworzenia naszej wymarzonej gry: autorski, pisany od pierwszej linijki silnik gry POWSTAŁ – Enidust.exe oficjalnie istnieje.
Były to nasze pierwsze targi, pierwsze tak duże przedsięwzięcie. Ba! Powiem więcej! Było to pierwsze spotkanie tak licznych członków naszej ekipy. Pierwszy raz spotkaliśmy ludzi, z którymi na co dzień pracujemy, dzielimy się pomysłami i żartujemy jedynie za pośrednictwem Internetu. Było to bardzo dziwne, ale i ciekawe doświadczenie.
Nie trwało ono jednak długo, ponieważ szybko musieliśmy zacząć działać jak drużyna, jak dobrze naoliwiona maszyna. Choć nie obyło się bez małego poślizgu, to mimo początkowych trudności, dzięki olbrzymiemu zaangażowaniu, nieprzespanej nocy ( ;P ) i odpowiedniemu podziałowi pracy całkiem sprawnie udało nam się rozstawić na naszym stoisku. To dzięki fanom naszego projektu mogliśmy być na PGA i właśnie to uczucie dodawało nam skrzydeł.
Wbrew temu, co może się wydawać, przygotowanie własnego stoiska nie jest kwestią pięciu minut. Każdego dnia stawialiśmy się na miejscu na godzinę przed czasem, by móc spokojnie zaaranżować naszą prezentację i rozstawić sprzęt. Nieocenioną pomocą w tym przypadku okazało się wsparcie ze strony LG, które użyczyło nam monitorów na czas targów.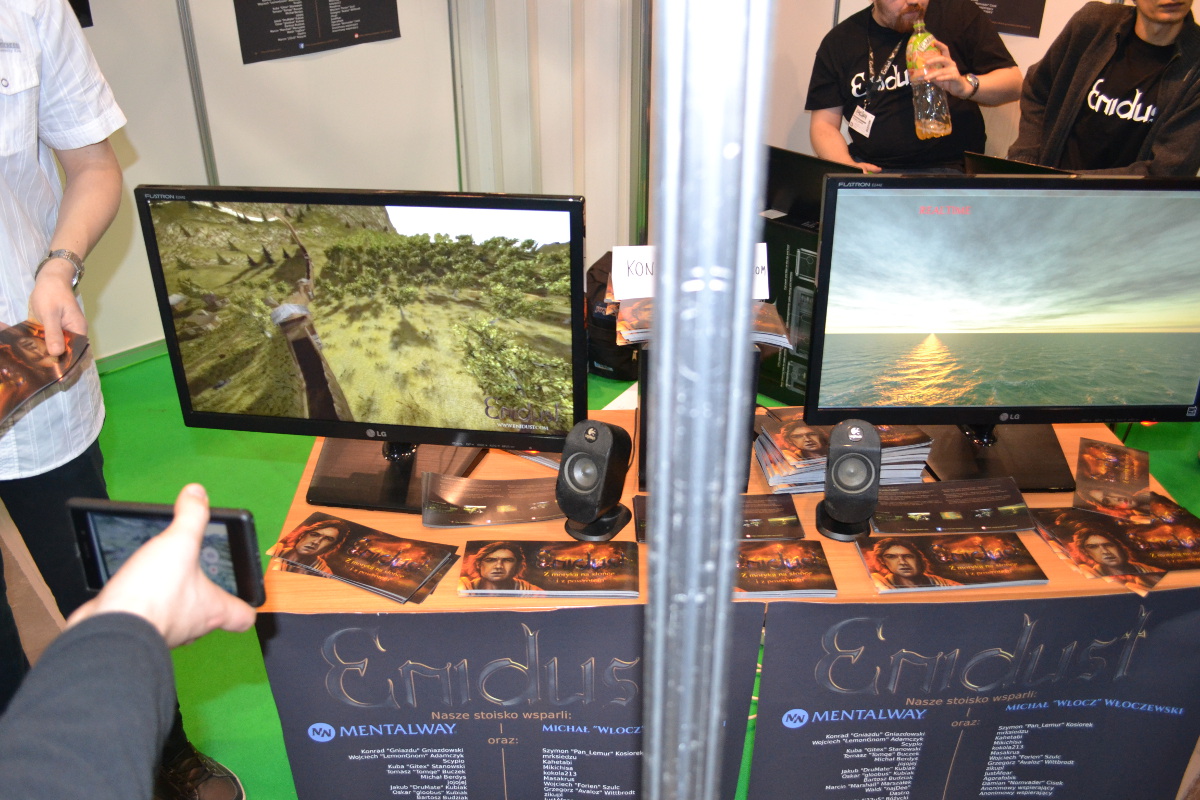 Nasze stoisko od strony wizualnej prezentowało się raczej skromnie, a jego centralnym punktem były dwa monitory prezentujące nasz autorski silnik. Mimo to podczas wszystkich trzech dni cieszyło się niemałym zainteresowaniem.
"Słyszeliście już projekcie Enidust? Gra ma być MMORPG'iem stawiającym na realizm i sandbox. To nasz autorski silnik – z lewej widzicie nagrany w nim film, z prawej pokaz realtime. Matiis, poruszaj Słońcem…"
Mniej więcej tak zaczynała się większość rozmów z ludźmi, którzy zatrzymywali się przy naszym stoisku. Jak wspomniałem wcześniej, było raczej skromnie urządzone, jednak poziom graficzny jaki udało się nam osiągnąć przyciągał ludzi - byli zaskoczeni, że to faktycznie dzieło niezależnego zespołu. Często padały również komentarze w stylu "Mój RAM mówi nie". Uspokoję was jednak - gra już teraz nie ma aż tak wielkich wymagań, a ponadto wciąż pracujemy nad optymalizacją.
Znaczą większość czasu spędzonego na targach poświęciliśmy na omawianie szczegółów samej gry – ciekawych jej mechaniki było bardzo wielu. Równie wiele osób zainteresowanych było samą genezą pomysłu, projektu, zespołu i tego, co tak naprawdę chcemy osiągnąć. I każdemu z nich odpowiadałem to samo: "naszym marzeniem nie jest po prostu stworzyć tę grę, ale również zagrać w nią".
Byliśmy jednym z nielicznych niezależnych studiów, które zaprezentowało swój autorski silnik, które działało na swojej własnej technologii. Ludzie to docenili i bardzo chętnie rozmawiali z nami, a nawet pytali czy mogą przeprowadzić wywiad lub oferowali swoją pomoc w inny sposób. Przez nasze stoisko przewinęło się wiele mniej lub bardziej znanych person; dostrzegali oni potencjał w Enidust – doceniali sposób w jaki dążymy do celu. Opowiadaliśmy o naszym projekcie, o naszych pomysłach i ambicjach. Odpowiadaliśmy na pytania i słuchaliśmy opinii.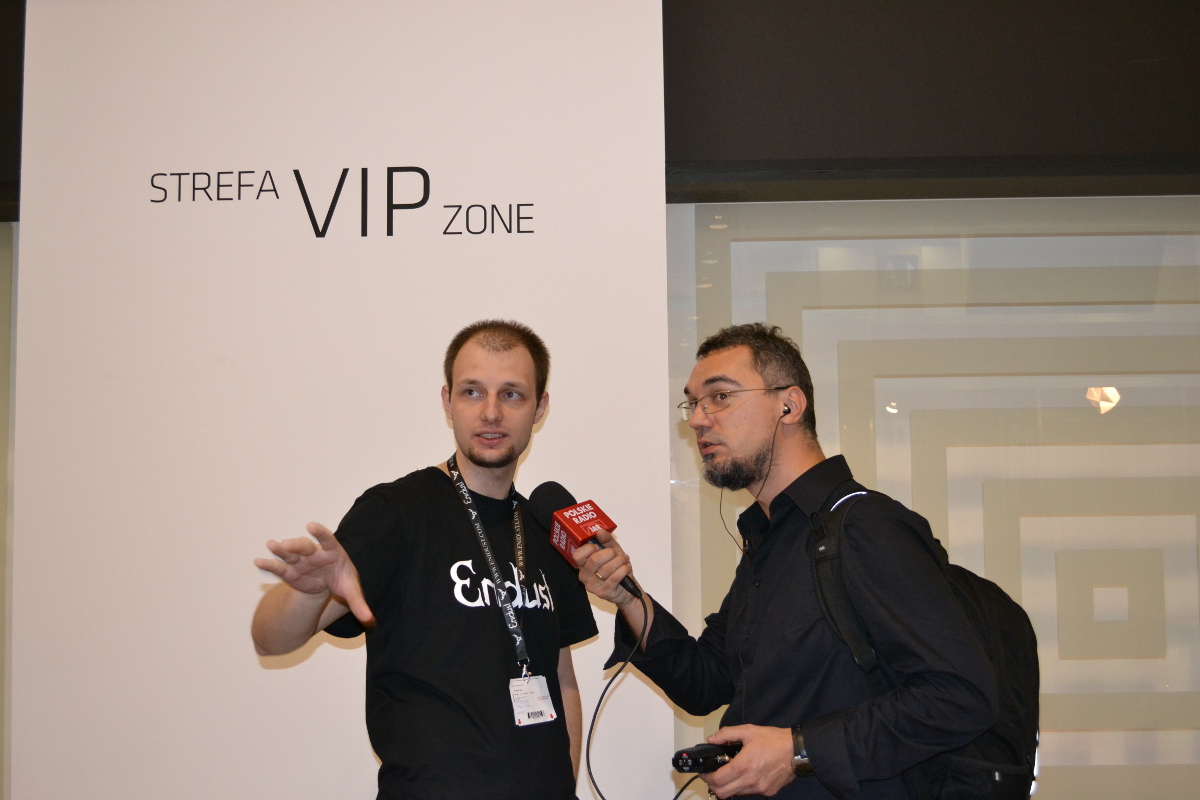 Miłym wyróżnieniem dla nas była możliwość wzięcia udziału w debacie dotyczącej crowdfundingu oraz zaprezentowania swojego projektu na małej scenie.
Niemałą okazją dla nas była też możliwość porozmawiania z innymi twórcami i przedyskutowania z nimi ewentualnych pomysłów czy rozwiązań, zarówno ze studiami, jak i z podobnymi do nas niezależnymi zespołami. Pomimo faktu, iż z pewnej perspektywy konkurujemy ze sobą, trudno było doszukiwać się w tych rozmowach choćby cienia rywalizacji – wszyscy starali się być jak najbardziej pomocni, dzielili się uwagami oraz doświadczeniami. Najlepszym tego przykładem mogą być wykłady prowadzone w ramach ZTG. W kilku mieliśmy okazję uczestniczyć.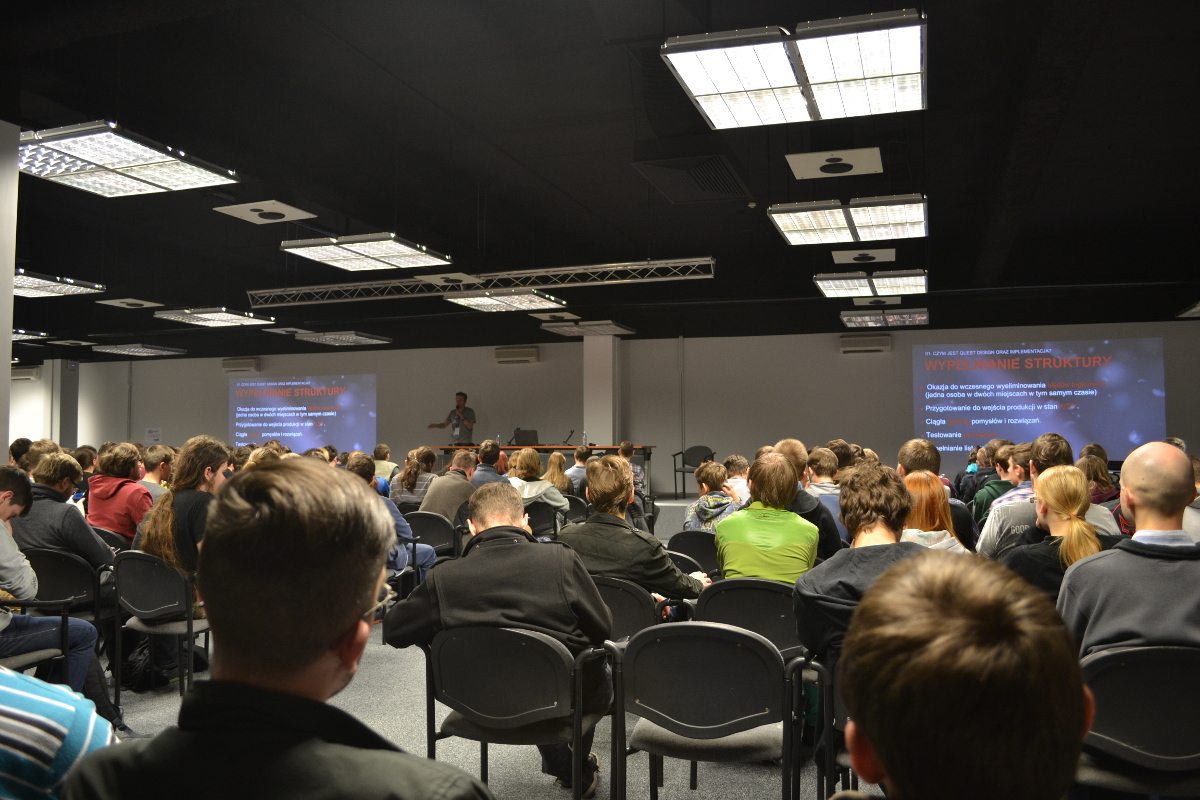 Podsumowując, były to trzy pracowite dni, które naprawdę dobrze wspominamy. Nie umknęło nam przy tym z pamięci, że to właśnie Wy byliście tymi, dzięki którym mieliśmy szansę w ogóle pojawić się na targach. Serdecznie zatem jeszcze raz dziękujemy wszystkim, którzy wsparli nasz projekt – naszemu wspaniałemu community, naszym sponsorom oraz portalowi PolakPotrafi.pl. Tymczasem, zapraszamy do przejrzenia naszej galerii z targów.
Do zobaczenia!
Relacjonowali: Mistrz Ignis & Dawro.
Z podziękowaniem dla wszystkich wspierających, zarówno tych niewymienionych, jak i wymienionych.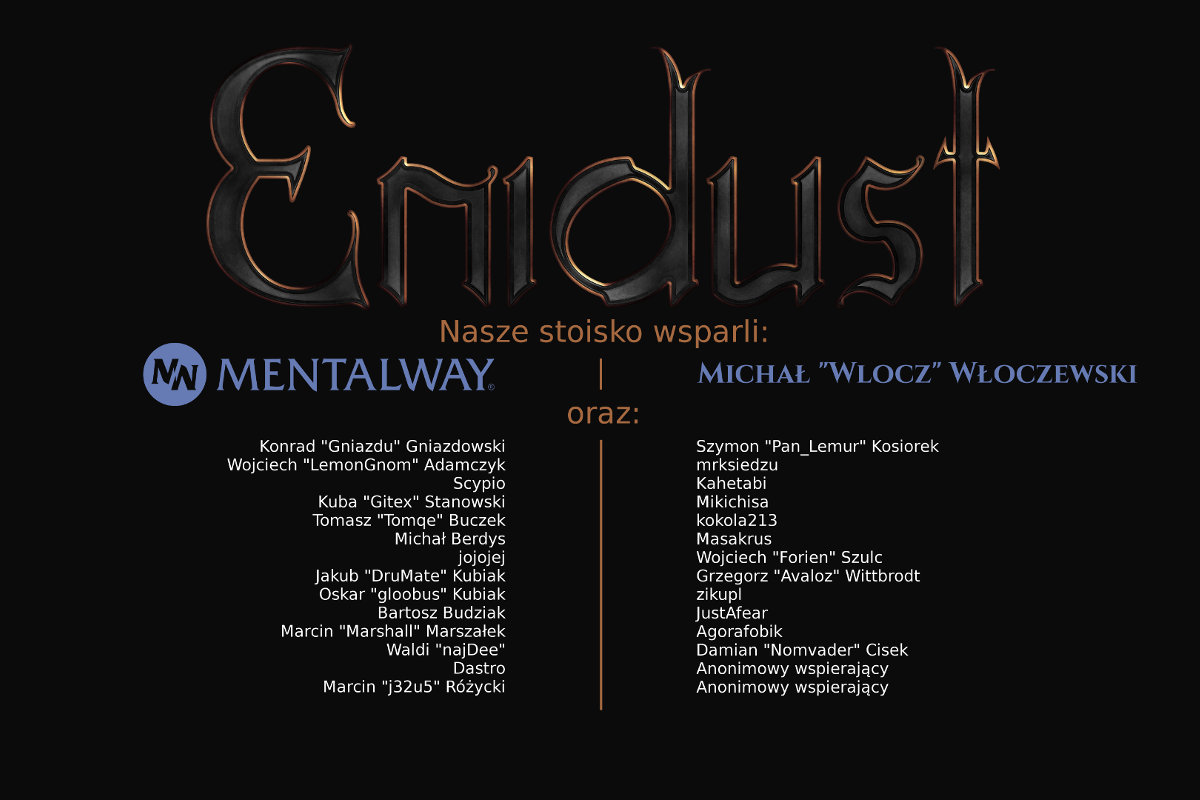 Wyrazy wdzięczności za pomoc podczas uczestnictwa w targach dla LG, PolakPotrafi.pl oraz organizatorów PGA 2014